The new ownership of the Windsor was featured in an article in the Scranton Times in June 2016 – Read it 
New owner wants to build on Windsor Inn tradition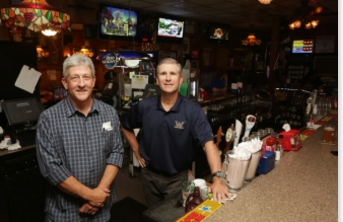 Windsor Inn general manager Gary Urnoski (left) and new owner Dan Cardell at the Windsor Inn in Jermyn on Tuesday, June 7, 2016. Jake Danna Stevens / Staff Photographer
DAVID SINGLETON, STAFF WRITER / PUBLISHED: JUNE 8, 2016
The name will not change, nor will the signature hot wings.
The Windsor Inn in Jermyn opened its doors Tuesday under different ownership for the first time in 39 years.
"The message we want to get out is we are not changing the basics, but we hope to have a lot of improvements along the line of service and things like delivery," new owner Dan Cardell said.
Mr. Cardell, 58, a Blakely native with a background in investment management and real estate, closed Monday on the purchase of the Windsor from Andy and Sue Whitiak, who have operated the landmark restaurant and bar since 1977.
The deal, brokered by PMJ Productions Inc. of Clarks Summit, encompassed not only the physical property at 669 Washington Ave. but also the business and all that goes with it. That includes the secret 19-ingredient sauce recipe for the Windsor's wings — billed as the second-best in the world — and the www.hotwing.com domain name.
The purchase price was not disclosed. The asking price when the business was listed for sale late last year was $1.35 million.
Mr. Cardell said there will be no major changes in the restaurant's staff beyond the hiring of Gary Urnoski of Blakely as manager.
"We are really trying more or less to continue in the tradition that Andy and Sue built up over the years," he said.
Although he currently divides his time between Chicago in the summer and Houston in the winter, Mr. Cardell is no stranger to the Windsor.
He started coming to the restaurant while a student at Valley View High School. Even after he graduated from Wilkes University with a degree in finance, he said no visit home was complete without a run to the Windsor.
He now gets back to the area frequently as a member of the Wilkes board of trustees, which he joined in 2008 and which re-elected him as board chairman just last weekend.
In December, Mr. Cardell's daughter, who lives in Los Angeles, spotted a Times-
Tribune story about the Whitiaks' plans to sell the business on Facebook and brought it to her father's attention.
The prospect appealed to him in a way only someone who has lived in the area — and understands what the Windsor means to the community — could appreciate, he said.
"We thought it was the right mix of history and tradition and good food, and people know the place," Mr. Cardell said.
PMJ agent Jerry Thier said acquisition of the Windsor by an individual with local ties probably was the best-case outcome for the Whitiaks, who wanted the business to continue "to be representative of what they had built."
Mr. Cardell said there will be some changes. The restaurant, which was traditionally closed Mondays, will now be open seven days a week and the hours will be expanded. He is looking into the possibility of offering deliveries and opening an outside patio.
"Andy had a formula that worked and he stuck with it, but we felt it could use a few tweaks here and there that could improve the business," Mr. Cardell said. "We're trying not to upset the existing customers, but we do want to grow the business."
Contact the writer:
dsingleton@timesshamrock.com